Water-based paint for exterior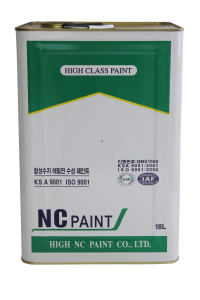 This product is made of acrylic resin and a pigment which is excellent in weather resistance. Excellent in waterproof, alkali resistance, durability and workability. It is suitable for painting outside the building (concrete, plaster, wood, slate, cement mortar).
Exterior of the building such like concrete, cement, wood, slate, plaster, mortar (exterior of factories and offices).
Color
White or light (Customized)
Dry surface status
Glossy
Specific gravity
1.2 for white
Volume solids
39.50%
Recommended dry paint thickness
30μm
Theoretical application coverage
13㎡/L
Drying time
Category
5℃
20℃
30℃
Tack-free
60 minutes
30 minutes
20 minutes
Dry-Hard
120 minutes
60 minutes
40 minutes
 Repainting
After 90 minutes
Dilution agent
Water (Tap water)
Dilution rate
Less than 5% (to volume)
Painted surfaces must be cleanly processed with no cement, dust, dirt, sand, oil, etc.
· Whether conditions
– 5~35℃ Air temperature
– Relative Humidity: 85% or less
Use spray.
Avoid painting under direct sunlight in the afternoon of summer or temperatures below 5℃.
Avoid high humidity as a rainy day. It may cause drying delays or falling-off in gloss.
For the newly constructed cement mortar surface, you may start painting after cleaning, at least at room temperature 20 ℃, at least 28 days after construction, and below PH9.
Keep in a cool dark place indoors at 5 ~ 35 ℃.
Paint uniformly in a constant direction with a brush or roller. In case the surface is absorbent or uneven, make surface treatment first.
Avoid eye contacting.
Avoid using mixed with other products.