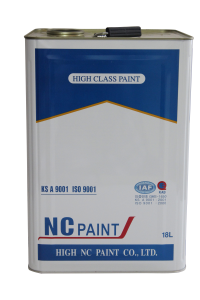 This paint, made mainly from alkyd-based synthetic resin, is designed to be an additive. It is very durable and adhesive. It is better in terms of resistance to water (water-repellent), chemical and wear. Further, as its gloss is elegant and paint film is hard, it is suitable for interior and exterior protection of various wood, furnitures and buildings.
for interior and exterior protection of buildings, wood and furniture.
| | |
| --- | --- |
| Finish   | High-gloss |
| Composition  | 1K Type |
| Color   | Transparent |
| Number of coats to be applied  | 2~3 Times |
| Diluent  | Paint Diluent |
| Dilution Rate  | More or less than 15% of paint |
| Recommended dry film thickness . | 30㎛ |
| Theoretical Coverage  | 16㎡/ℓ |
| Drying Time(25℃)  | 7hrs. |
| Required time between applying subsequent coatis (25℃)  | After 10hrs. |
| Storage Period   | 1 Year (at a temperature of 5~35℃ when stored indoors) |
Keep the surface area to which painting is applied clean free of cement, powder, soil, sand, oil etc. .
Weather conditions for work
– Atmospheric Temperature : 5~35℃
– Relative Humidity : Below 85%:
Use a roller , a brush and a spray. ·.
. When using a brush, use one suitable for varnish and apply thin coating several times.
· Excessively thick coating may cause wrinkles and drying time to slow.
Avoid applying the paint at noon in summer, under a direct sunshine in the afternoon or when temperature drops below 5℃. .
– Store the paint in a cool and dark place indoors at a temperature between 5℃ -35℃, if possible..
– Ensure smooth ventilation while indoor painting is done. Note that while film is formed after initial coating, drying is much delayed. Observe the required time between applying subsequent coat. ·
After coating, the surface may be roughened depending on the kind of linoleum(flooring) if :
1. a new linoleum(flooring) is installed;
2. a new linoleum(flooring) is dried after being wiped with a wet rag
3. a new linoleum(flooring) is left unattended for a long time after being installed. .
If the surface is roughened for any one of the foregoing reasons, apply a thin coating and dry, then, smooth the surface with a sandpaper and recoat two or three times.
· Care should be taken that the paint does not contact the eyes.
· Do not put the product near fire source.
Avoid mixing the paint with other paints.