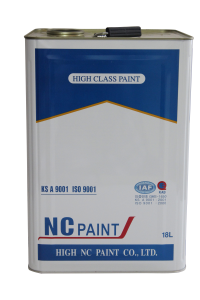 Silver powder paint uses petroleum-based synthetic resin and high purity aluminum pigments as a main media. It ensures better adhesion, corrosion resistance and durability. Further, as it forms film that imparts excellent water and oil resistance, it is suitable for the interior and exterior coating of various bridges, pipe, steel tower, lighting fixtures and steel facilities.
For bridges, pipe, steel tower, lighting fixtures and steel facilities etc.
Composition
1K Type
Color
Silver
Finish
Gloss
Volume Solid
30~35%
Number of coats to be applied 
1~2  Times
Diluent
Silver powder. Dedicated diluents 전용 희석제
Dilution Rate
Below 20% (Ratio to volume)
Recommended Dry Film Thickness 
30㎛
Theoretical Coverage
8 ~ 9.5㎡/L
Drying Time
Category
5℃ 
20℃ 
30℃ 
Touch Drying
4hrs.
2hrs.
1hrs.
고 화 Drying  
8hrs.
4hrs.
2hrs.
 Required time between applying subsequent coat
12hrs.
8hrs.
6hrs.
 Storage Period
1 Year (at a temperature of 5~35℃ when stored indoors)
Keep the surface area to which painting is applied clean free of cement, powder, soil, sand, oil etc. .
Weather conditions for work
– Atmospheric Temperature : 5~35℃
– Relative Humidity : Below 85%:
– Temperature of the surface area to which painting is applied: At least 3℃ above the dew point temperature
Use a roller , a brush and a spray. ·.
If film is formed after an initial coating, creation of wrinkles and drying speed slow.
Avoid applying the paint at noon in summer, under a direct sunshine in the afternoon or when temperature drops below 5℃. .
Ensure smooth ventilation while indoor painting is done…
Avoid applying painting when it rains, humidity is high (above 85%), temperature is low (below 5℃) as it cannot provide normal properties · Make sure that the container be stored, sealed airtight and erect upright with an inlet toward the top .
· Store the paint in a cool and dark place indoors at a temperature between 5℃ -35℃, if possible..
– Care should be taken that the paint does not contact the eyes.
-Avoid mixing the paint with other paints..
Do not put the product near fire source. .
As it is inflammable, keep it away from fire source. .