Roofing Tile and Slate Paint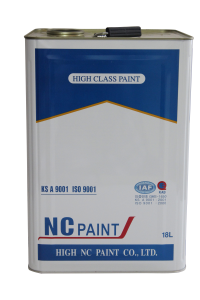 Made of high-end thermoplastic acrylic resin and good weather-proof pigment, this paint not only dries fast and is good to work with. Further, it forms film that is wear- , water- , alkali- and contamination-resistant and smooth and high glossy. Long lasting film extends the life of repair coating, thus economical.
slate and roofing tile, concrete mortar wall, ceiling and floor (both for interior and exterior use)
| | |
| --- | --- |
| Composition | 1K Type |
| Finish | Gloss |
| Volume Solid | 42~46.2% |
| Theoretical Coverage | 11~11.5㎡/ℓ |
| Recommended Dry film thickness | 40㎛ |
| Number of coats to be applied | 2~3 Times |
| Diluent | Coat Diluent |
| Dilution Rate | More or less than 30% |
| Drying Time(25℃) | 2hrs. |
| Required time between applying subsequent coats (25℃ ) | Over 4hrs. |
| Storage Period | 1 Year (at a temperature of 5~35℃ when stored indoors) |
Keep the surface area to which painting is applied clean free of cement, powder, soil, sand, oil etc.
Weather conditions for work
– Atmospheric Temperature : 5~35℃
– Relative Humidity : Below 85%:
– Temperature of the surface area to which painting is applied: At least 3℃ above the dew point temperature
Use a roller , a brush and a spray.
Avoid applying the paint at noon in summer, under a direct sunshine in the afternoon or when temperature drops below 5℃.
· Avoid applying painting when it rains, humidity is high (above 85%), temperature is low (below 5℃) as it cannot provide normal properties .
· For new cement mortar surface, apply the paint after leaving it at a room temperature of at least 20℃ for over 28 days and stripping down cracked area to bare concrete at below PH9·
Make sure that the container be stored, sealed airtight and erect upright with an inlet toward the top.
· Store the paint in a cool and dark place indoors at a temperature between 5℃ -35℃, if possible.
· After diluting the paint per the above specifications, apply it uniformly in a given direction using a brush or a roller and if cracked area itself is absorbed or irregularities are severe, apply after filling with sealant.
Care should be taken that the paint does not contact the eyes.
-Avoid mixing the paint with other paints.