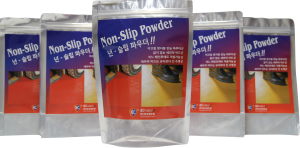 This product is designed as an anti-slip agent and is to be added in various kinds of paints such as urethane waterproof agent, acrylic, epoxy, and the like water-based. Being made of ceramic material, it has advantage of excellent water-resistance and durability without damage semi-permanently. It prevents slipping due to its high coefficient of friction and it can be mixing with any kind of paint. It is suitable for parking lots, roads, sidewalks where slip prevention is required in interior and exterior of structures.
Toilets, parking lots, roads, sidewalks, stairs, hall passage, etc. where slip prevention is required
Some of the ingredients of the product is heat shield material of Alumino Silicate component, in which ceramic technology was applied, and which was developed for a purpose of sheath insulation by NASA.
Condensation occurs when the exterior and interior temperature difference of a building is about 13 ℃ or more. This product, made of heat shield material which has low thermal conductivity, has a breathing structure which makes surface temperature flexible, and thus absorbs and evaporates through reducing temperature difference by forming the protective film in summer and winter.
| | |
| --- | --- |
| Appearance | Free-flowing powder |
| Color | Off-white (grey) |
| Relative specific gravity | 0.5 – 0.6g/cc |
| Bulk specific gravity | 0.3 – 0.4g/cc |
| Cell thickness | 0.4 – 1㎛ |
| P    H | 4 – 8 |
| Melting point | 1400℃ |
| Compression strength | 6500psi(456kg/㎡) |
| Hardness | 6Mohs |
1. When applying above the old coating, check conformity with the old coating first. (Contact your dealer or customer service center.)
2. It can be mixed or added with all kinds of paints – waterproof polyurethane, epoxy, water-based paints, enamels, lacquers, etc.
3. Use masking tapes or papers to cover where not to be painted.
4. Painted surfaces must be cleanly processed with no cement, dust, dirt, sand, oil, etc.
5. If dilution is required, apply dedicated dilution agents. Avoid excessive dilution as it may affect workability, abnormal coloring, bad concealment and property.
※ How to apply urethane and epoxy paints
The basic painting method of urethane-based paint is almost similar to the epoxy, however airless spraying is recommended to prevent any roller marks.
Ⅰ. Nozzle diameter: 0.029~0.031inch
Ⅱ. Spray pressure: 1,800~2200 psi / 120~150atm
Ⅲ. Spray angle: 350° ~60°
Information of spray is for reference only and is subject to change depending on conditions.
After mixing the ingredients and hardener in proportions, add powder and mix with an electric stirrer for about 2 minutes
Use rollers for both oil & water.
For repair painting, it is recommended to add powder in the first coating only but no addition in the second for better durability.
Airless spraying is recommended to prevent any roller marks.)
※  For all other paints, mix 1.5kg – 2kg of this product for 18 liters and mix for about 2 minutes with an electric stirrer not to be clustered.
After work, wash exposed skin thoroughly.
Dispose of the waste through a waste disposal company designated by the Ministry of Environment.
Expiry date is 24 month after the manufacture date. It may be used depending on the storage condition, however there is a risk of deterioration or sedimentation during long-term storage. For products that have passed the expiry date, please contact our customer service office.
1. Long-term skin contact or inhalation of vapor may cause headache, dermatitis, and the like. It is recommended to wear protective equipment (Mask, goggles, gloves). Avoid ingestion.
2. Keep away from fire and direct sunlight for handling, shipping and storage. Store in a cool, dry place with good ventilation at 5 ~ 35℃. Keep away from children's reach. Keep it upright with the injection port facing upward.
3. To prevent damage or injury during transportation and handling, seal the container and hold the handle firmly.
4. Never try prohibition matters (smelling).
5. Do not use it in infants, children's equipment and food storage containers. If necessary, contact our customer service office.
6. In case of ingestion, get a medical care immediately. When vomiting, carefully secure airway open.
7. During/after work in the concealed places, make good ventilation.
8. When eye or skin contact, wash immediately with running water. Seek medical advice if irritation develops.