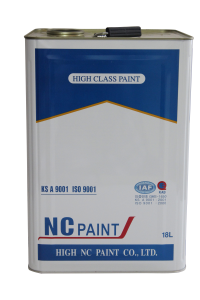 The paint is Polyamide epoxy-based using epoxy resin as a main media. It ensures better adhesion and durability. Further, as it forms the film that is effective at being wear-, corrosion- , impact- , chemical- , water- and oil-resistant solid film, it is suitable for the protection of various steel and concrete facilities.
Interior protection of steel and concrete structure, finish paint.
Composition 
2 K Type
Color  
Transparent and each color
Finish  
Glossy, Semi-glossy, Matte
Volume Solid 
45~50%
Recommended Dry film thickness 
60~100㎛
Recommended Coverage  
8.5~10.5㎡/ℓ
Number of coats to be applied 
1~2 Times
Hardener 
2:01
Mixing Rate (Ratio to volume ) 
Diluent
Epoxy Diluent
Dilution Rate 
Below 10% (ratio to volume)
Drying Time
Category . 
20℃
Touch Drying
30min.
Dry-Hard
12hrs.
Complete Drying   
4 days
Time 
5hrs.
Interval during which recoating is applied
24hrs.
Keep the surface area to which painting is applied clean free of cement, powder, soil, sand, oil etc.
Weather conditions for work
– Atmospheric Temperature : 5~35℃
– Relative Humidity : Below 85%:
– Temperature of surface area to which painting is applied : At least 3 ℃ above the dew point temperature
Use a roller , a brush and a spray.
Avoid applying the paint at noon in summer, under a direct sunshine in the afternoon or when temperature drops below 5℃. .
– For new cement mortar surface , apply the paint after leaving it at a room temperature of at least 20℃ for over 28 days and stripping down cracked area to bare concrete at below PH9..
– Avoid applying painting when it rains, humidity is high (above 85%), temperature is low (below 5℃) as it cannot provide normal properties
– Store the paint in a cool and dark place indoors at a temperature between 5℃ -35℃, if possible..
– After diluting the paint per the above specifications, apply it uniformly in a given direction using a brush or a roller and if cracked area itself is absorbed or irregularities are severe, apply after filling with sealant.
– Care should be taken that the paint does not contact the eyes.
qAvoid mixing the paint with other paints..