Crown Fire-retardant Oil Stein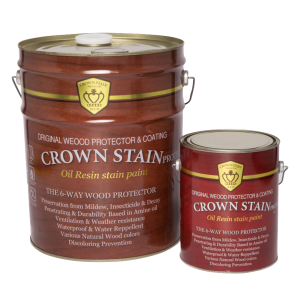 The Crown Fire-retardant Oil Stein is designed for wood coloring and as a finishing agent. This product contains linseed oil, flame retardants, special pigments and antimicrobials, which improve durability of wood and secure lives and personal property when fire. It protects wood exposed to external environments very nicely due to its features of water repellency, insect repellency and antiseptic effects. In addition, due to excellent breathability, it is very sustainable against harsh conditions of environment such as ultraviolet light, sunlight and wind. Nevertheless, it brings out natural texture of wood grain.
Wood coloring and exterior wood sculptures that needs prevention against decay and weathering (huts, cabins, cottages, etc.). Interior facilities made of wood such as DIY timber, wooden racks and etc. All wooden structures and facilities such as temples where fire prevention is required.
Flame retardant
Due to the fire retardant agent added firstly in Korea, it protects human lives better and minimizes damage in the event of fire.
Water-repellent & waterproof
It actively blocks water, rain and moisture, and further enhances the value of exterior timber.
Antiseptic / Insect repellent / Anti-ant
It prevents discoloration and corrosion of timber caused by climates and environments, and protects wood against pests such as mold, ants, moth, etc.
Excellent breathability & durability
Due to excellent breathability, it is very sustainable against harsh conditions of environment such as ultraviolet light, sunlight and wind.
Natural wood grain and various colors
With soft and natural color of transparent watercolor feel brings out natural texture of wood grain.
Excellent penetration & durability
It penetrates deep into the wood, improves durability and prolongs the life of wood.
Ease of work & Expanded applications
Easy to use and excellent workability to decorate the various spaces of interior and exterior of rooms.
Composition
Mono-fluid type
Volume Solids
26.7
Dry surface status
Matt (permeated into surface)
Color
Transparent and Various colors
Flash point
25℃
Recommended dry paint thickness
35~40㎛
Recommended application coverage
7~8.5㎡/ℓ
Dry time
Category
5℃
20℃
30℃
Tack-free
–
8hour
–
Dry-Hard
–
24hour
–
Repainting
_
12hour
_
Dilution agent
Not diluted
Repainting
2 times
Painted surfaces must be cleanly processed with no cement, dust, dirt, sand, oil, etc.
· Whether conditions
– 5~35℃ Air temperature
– Relative Humidity: 85% or less
Use brush, roller and spray.
Avoid painting under direct sunlight in the afternoon of summer or temperatures below 5℃.
Keep in a cool dark place indoors at 5 ~ 35 ℃.
Avoid painting works in rainy days, high humidity (85% or more) and at below 5℃. It may weaken its normal property of the paint.
Paint uniformly in a constant direction with a brush or roller. In case the surface is absorbent or uneven, make surface treatment first.
Avoid eye contacting.
Avoid using mixed with other products.
Remove any old coating left in the surface.
Keep away from fire such as heater or stove.
Select proper colors as the standard color may differ depending on the species of wood.